ECOLOGY AND HEALTH
A wooden home respects the environment and those inhabiting it, because wood is the only 'breathing' construction material. It guarantees a lack of heat bridge and condensation risks, thanks to the high steam permeability. It can also be completely developed according to the prescriptions of bio construction, choosing appropriate materials.

MECHANICAL PROPERTIES OF THE WOOD
Wood in general (and plywood in particular) is an excellent construction material, as it is highly resistant to traction, compression and flexion. It is elastic, with a low specific weight, excellent thermal-acoustic characteristics and is easy to work.

DURABILITY
If well made, the wooden house is a construction that can last for centuries, as proven by the many wooden constructions spread the world over that are still in perfect condition, having stood the test of time, even centuries later. The building's duration, or rather durability, is closely linked to the treatments performed on the wooden parts in directly contact with weather agents and/or pathogens. As such, simple details can easily increase the life of the exposed parts.

ANTI-SEISMIC AND FIRE-RESISTANT
Wood's resistance to earthquakes has been proven time and time again in high seismic risk countries such as America and Japan, where wood is regularly used in construction. Wood has characteristics that make it able to resist telluric forces and that make it, in some ways, the perfect surrogate for steel. Differently from steel, however, wood also has an optimal response to fire, on the contrary to common thoughts.

According to that set forth by the new technical standards for construction (NTC) dated 14/01/2008, seismic-resistant wooden structures buildings must be designed in accordance with the 2 levels of dissipative capacity or ductility classes (DC) described: High ductility class (DC 'A') and low ductility class (DC 'B').

The new standards, in line with that set out by the Eurocodes, include the structure factor q0, namely the parameter indicating a wooden structure's capacity to reduce seismic action.

The maximum value of the structure factor Q0 is reported for buildings using the Platform Frame construction system, seismic-resistant wooden structured buildings with a high capacity for energy dissipation (DC 'A'), for which q0 = 5.0.
Class
q0
Example structures
CD "A"
5,0
Platform frame
4,0
Hyperstatic frame
3,0
Monolithic nailed walls
CD "B"
2,0
Isostatic portals
Cross Lam


SUBISSATI significantly improves the quality of the Platform Frame construction system, thanks to the characteristics and treatment of the beams used:
- plywood (more resistant and more elastic)
- minimum section 60x160 mm (almost double the beams usually used)
- impregnation in autoclave (safe from attack from the weather elements)


EXCELLENT VALUE FOR MONEY
A wooden house is extremely good value for money as compared with a traditional house, both in terms of technological level provided, as well as during development and with regards to maintenance costs.

ECONOMIC ADVANTAGES AND SPEED OF ASSEMBLY
Significant energy saving as the homes easily reach wall transmission values of 0.20 W/m² K and extremely high shift values, meaning that the house is cool in the summer and warm in winter, avoiding pointless expense for air-conditioning and heating. A further important factor is the speed with which a wooden home can be developed and assembled: the average site lasts for around 90 days.
THE CLASS A HOME
Some years ago, it would have been impossible to propose an alternative form to traditional construction. Today, this is no longer the case. Wooden homes have overcome a great many prejudices rooted in our 'bricks and mortar' culture, showing their extraordinary qualities and compatibility with a future vision of the sustainable home, fully meeting modern construction parameters.

First and foremost, a wooden home guarantees a significant reduction in CO2, in compliance with current standards established by the Kyoto protocol.
All SUBISSATI homes are class A, and with the addition of appropriate higher class systems, can be defined as 'passive homes'. The wooden home is an undisputed investment in quality and economy to be enjoyed over time.
The SUBISSATI home is an early response to environmental and energy emergencies that are already changing our way of life, perceived and dealt with on a daily basis.

Constructing energy certification parameters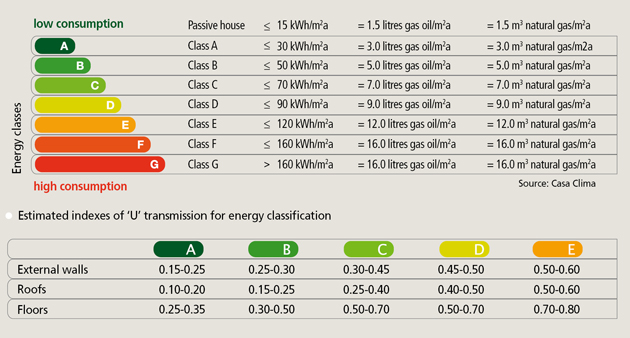 In addition to the parameters relative to walls, roofs and flooring, to comply with construction energy efficiency, the quality of the following must also be considered: systems, doors, windows, foundations, exposure, bio-climate, etc.