The project, in the countryside near Senigallia (AN), stems from the owners' desire to find a quiet place, not too far from the city and convenient to reach their workplaces in a short time and to be able to go cycling in their free time, taking advantage of the Marche hills for long workouts.
The demolished ruin stood close to the provincial road: the new building "turns its back" on the road to gain a view of the sea, favoured by its position high on the hill, and dominating the valley towards Senigallia.
The residential building, of modest size, is structured in a regular geometry that follows the local building typology, but bends on the north side to catch the best view. The structure is made of wood, clad in brick material for part of the elevations. The front facing the street is blind, the others have studied and generous openings to obtain the best light in the interior, and adequate ventilation throughout the year.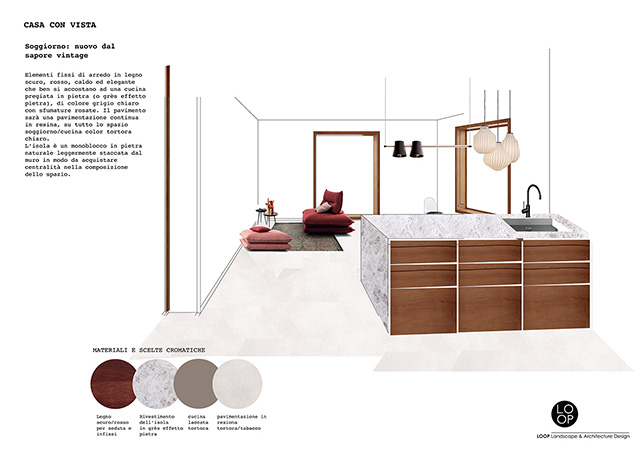 Inside, it is the living room-kitchen that looks towards the countryside and the sea, on the ground floor, in the same way as the larger room on the first floor.
The materials are chosen to reflect the colours of the context, both inside and out. The roof, in double pitch and in tiles, leaves the beams of its structure visible on the inside.
The space generated is cosy, with soft, welcoming colours and materials. Privacy and comfort are guaranteed, the view is a discovery.
The prefabricated glulam dwelling will be built with "Platform Frame Subissati" construction technology
Client: private customer
Architectural design:
LOOP Landscape&Architecture Design
Progetto strutturale:
Roberto Ortolani - STA LANDI Studio Tecnico Associato
Via Arsilli n°9 - 60019 Senigallia (AN) - P.I.: 02592440420